Tributes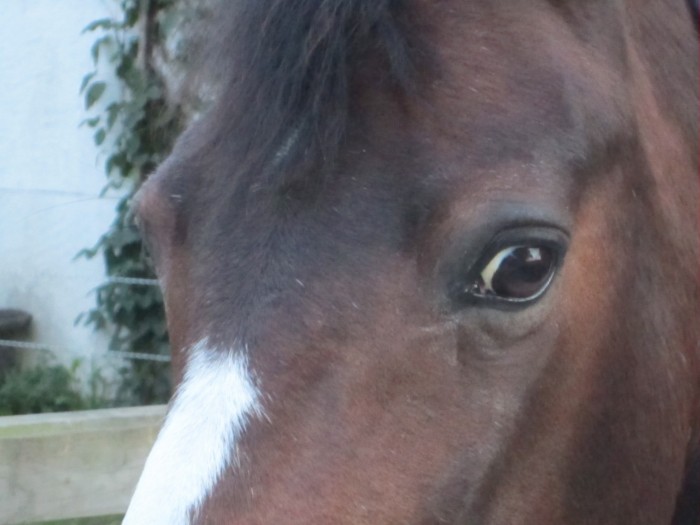 A tribute to my beautiful Mo.....
I still remember that first day we saw you Mo. We were only supposed to be finding somewhere that we could learn more about how to look after a pony. It was to be a mother and daughter thing. Somehow, on that day in 2001, I ended up, at the age of 40, buying a 14hh beautiful little bay mare with 3 white socks and a crooked blaze, my first ever pony. That was you Mo. 
Boy were you naughty! You napped, you took off on occasions and you kicked other horses. Not a pony for a novice, my friend said. It didn't matter to us though, you were my childhood dream and Tasha's dream come true.... 
We took you on hacks down the beautiful country lanes and rode you in the school. Your favourite thing was walking and trotting sideways like a crab in the school! We took you to shows, rode up the beach and groomed you for hours, we had so much fun together......  
You had your fair share of troubles as you got older though. Lots of vet visits for lots of problems over the years but we nursed you through them all and you made good recoveries. When you started to look a little bit older and needed more care and less grass, you came home to live with me. We learnt the way of natural horsemanship together, and spent hours playing in the fields gently, riding with a rope halter and going for long walks inhand. You would share our barbecues and parties, graze in the garden and even came indoors one Christmas..... 
I began to think you would live forever and the fun would never end. Then on that day, Saturday, 27th October, 2018, nearly 18 years after that first day I saw you, you suddenly and without warning became very poorly. The vet came quickly but you were in a lot of pain, more than I had ever seen you in before, treatment wasn't working and we didn't want that for you, ....you were over 34 years old and probably nearer 40. When the time came to say goodbye, we sat down on the floor next to you. You laid with your head gently on my lap, breathing softly on my cheek. I stroked your beautiful face and told you how kind and loved you were and thanked you for the wonderful times you had given me. When I heard your breathing change, I knew you were galloping over to The Rainbow Bridge my beloved Mo.
The thing is that I wasn't done loving and playing with you yet Mo, there was still so much fun I wanted to have with you.....but I know I had to let you go. Gallop and run free my darling mare and when I come to the bridge, canter over to me with that soft nicker that I now miss so much and we will be together once again...... 
You changed my life Mo, in ways that only you could. You are one in a million and I am blessed to have been able to look after you. You taught me so much and you gave me the World. I will love you always.......
No Words....
"For there is no other feeling in the world to compare with it if one loves a great horse. It gives a thrill that nothing else ever can. It cannot be put into words, because words cannot express it." 
 Samuel Riddle 
Special Memories
Pennie (Me)

Walking through fields and down country lanes in the sunshine, snow and sunset.
Sitting with you in the field next door with a glass of wine whilst you grazed on the long grass.
Laughing my head off when you snatched a banana complete with peel, out of my hand and ate it!
Hearing your loud call when we pulled up in the drive or I called to you in the mornings.
Watching you snooze down the end of your paddock and roll in the mud.
Feeling your soft nose and mouth on my cheek whilst you muzzled me.
Seeing you pull funny faces when I scratched your belly.
Watching you do 'the crab' with Tash.
Getting covered in hair when I brushed you.
Seeing you nod your head madly over the gate or stable door when you wanted your food.
Trying to fill your treatball up before you flattened me.
Catching you stealing the pink roses from the bush.
Watching you hold down the thistles we gave you with your hoof so that you could break them up. Then seeing you carefully and slowly moving them round your mouth so that they didn't prickle you!
Laying down and giving you a cuddle.
Brushing you in the fields in the wind so that I could watch the birds come down to collect the fluff that blew away and up the road.
Seeing you eat a beef burger at Lower Wall Farm.
Nearly falling off the front of your neck because you leaned down to eat grass.
Grooming your funny half a mane.
Brushing your beautiful silky tail.
Watching you gently muzzle our lovely Tilly dog.
Taking Lily and Maisy out for rides on you.
Looking at your adorable face.
Helping you off the floor when you got cast.
Feeling terrified whenever you were poorly.
Relief when different vets made you better.
The excitement of our first hack out together.
Jumping solo through the woods down Aldergate Lane.
Just everything about you.....
Richard
Feeding you crisps and food.
Watching you put your head over the fence to get the barbecue food.
Holding tight onto Parry's reins when you were always trying to race past us.
Watching you canter past me down Lympne Hill.
David
Getting covered in your sneeze at a barbecue.
Watching you steal a roll at my 30th Birthday party and trying to stop you eat my burger.
Waking mum up in the middle of the night because I heard banging and you had got cast.
Tasha
The thrill of cantering you bareback in the field at Honeywood

Getting stuck up a hill because you didn't want to jump over a tiny bit of water.
Holding on tight when you tried to throw me in a big pool of water up the beach.
Cantering through a swarm of bees across the Orgaswick Lane track!
You and the crab.
Aaron
Hearing you scream your head off and not wanting to move when I tried to walk you back on Mothering Sunday.
Holding on tight when you trotted off with me.
Lily
Having my last ride on you in nanny's garden. It was fun, and I was glad I got to ride you when your hoof was getting better. 
Riding on you with my owl, Wilbur, from school.
Laughing at Christmas when you came in the house.
Maisy
Riding and walking up the road with you 
Screaming when you escaped out the stable and frightened me and I ran indoors to tell nanny!
Watching you eat grass.
Emma
Going on a bike ride with you and mum and you wouldn't walk past a generator next to a house or a bag in the road. We had to wait for 15 minutes until mum could get you to go past the generator!
Emily (neighbour)

Dear Pennie, my best memories were of waking up to hear her in the morning and feeding her thistles but also watching you bath her in the garden and seeing how much she enjoyed it ❤️

Sarah Emptage
If I ever come back to Earth after I die, I would like to come back as a pony and live at your house.....
Reuben (Vet)
Pennie, Mojo was an institution!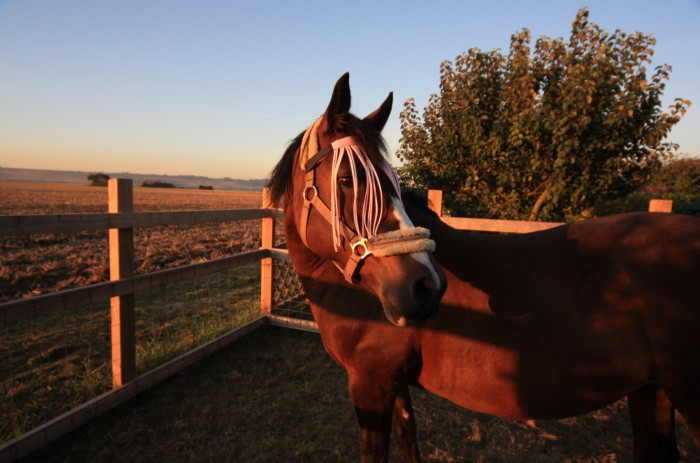 Mojo's Website
I would love for people to read our story far and wide, so please feel free to share the link to Mo's website. So far It has been seen in the following countries:
United Kingdom, United States, Thailand, Canada, Australia, Ireland, Austria, Norway, Netherlands, Serbia, Spain, Greece, Italy, Malta, Cyprus, Philippines, Hungary, Switzerland, Brazil, Nigeria, Croatia, China, Finland, France, Guernsey, Denmark, Ukraine, Germany, Sweden, Malaysia, Belgium, South Africa, Bangladesh, India, New Zealand, Portugal and Singapore.
Responses from readers:
It is absolutely lovely to see how you have celebrated Mo's life and the way you have memorialized her.  I had one horse I was very close to growing up and it was very difficult to lose her.  Those precious eyes, like a little baby inside of a large horse body.  I am sorry for your loss of Mo...thank you for sharing memorial ideas for others who are going through the same loss. Diane (Pet loss support group, fb)
Im deeply grateful for what you have posted on this site. I wept as I read through what you'd posted on this site. The photos are beautiful. No one could write such a magnificent tribute unless it was born out of love. All you have written about your Mojo is truly a blessing. Patricia (Via contact form)
Pennie Newman, I just visited your site and I am stunned. Thank you, this was one of the only things that has ever really resonated with and inspired a little relief in my grief. I'm speechless. Thank you! Kat (HVC-coping with the loss of a horse support group, fb)
What a wonderful tribute to your Mo. Thank you again for your efforts in establishing this website and know that it has helped at least one other person on their journey with grief. Blessings upon you! Vera (Via contact form).
You write so clearly and I am very impressed by your planting lists for Mojo's garden. Your love and care for Mojo shines through. I love the way she sensed when a small person/novice rider was on her back. Truly a very special pony X Philippa (Via contact form).
What a beautiful tribute to your special Mo. You have done a great service with your article. Joyce (fb group)
Pennie, thank you so much for sharing your life with Mo. It's a beautiful tale and she was loved even with her 'moments'. When I was searching for my first 'adult owned horse' at age 44 I said I didn't want a mare or a coloured horse. I am now owned by a coloured mare - they own us. Adele (Comment form)

That's lovely, I really enjoyed reading about Mo. I hope it has helped you come to terms with losing her. (H&H)  

Dear Pennie. I've just read the whole website to Reuben as he is driving next to me. What a lovely dedication to lovely Mo who obviously meant the world to you. The rainbow was especially lovely. Best wishes Reuben and Sarah (Vet)
Hey Pennie. My how your website has morphed into something really great that others can, and clearly are, getting some benefit from:-)
I remember the first time you came to speak with me about the problems you were experiencing with Mojo and how you could hardly contain your upset. It was a privilege watching you change that relationship, watching you gain in confidence but most of all, and I know I can say this to you, I am in it for the horses. And to help Mojo have a harmonious life in that last decade was a total privilege:-)
Thank you for trusting me enough in the beginning when change was difficult for you and if anyone deserved to have the relationship you had with your horse, then it was you. You were prepared to invest the time and effort with your horse. Well done! And now the next chapter with her is the grief. Remember that the love doesn't disappear when the physical form is no longer there💕
Thank you for the links to my website and hopefully I will be able to help others who are experiencing difficulty with their horse, to find a better path forward.
All the best, Cathy 🐴🐎💕 (Via contact form) 
Oh Pennie, this made me cry. What an absolutely wonderful and moving tribute to your darling Mojo. 
I loved reading all about your adventures and laughed at you taking her into your house Christmas Day! It so reminded me of my first pony Nutty. She lived until she was 30. She scared me to death at times but gave me so much confidence. You are so lucky to have had such a beautiful pony, truly a pony of a lifetime. I was in awe of your touching memorial garden and what you have done to her stable. What a beautiful tribute to an incredibly special pony. Your photos were just so touching and your recollection of Mojo's final day was heartbreaking. I have been with three of my horses at the end and it brought back memories. Thank you so much for letting me read this it was a privilege and an honour to be able to make Mojo's slate.Thank you for mentioning me too. Take care of yourself, it is still very early but writing this amazing tribute will have helped you. She will always be with you, in your heart and soul. With love Lou xxxx (Etsy)

I just had a sneak preview of Mo's website.  Absolutely beautiful Pennie. I LOVE it.   I will spend more time tomorrow looking at it.  You must be so proud.  There aren't many people who love their ponies that much.  XX Lizzie (Prince❣)   

Love the website. What a beautiful girl she was. (H&H)  

Just had to write before heading off to bed. I sobbed like a baby over the Web site. It's beautiful!! I haven't read all of it yet, but I looked through all the pages and read a lot of it. I love the story of how you came to buy Mo. And so many, many lovely memories. I was touched by the mention of me and Freddie. The pictures of Mo's garden are so inspirational for others who might be looking for ways to memorialize their loved one. I love Mo's garden so much. Xxxx Maria (Freddie ❣)  

What a lovely tribute, made me cry though.. (H&H)  

Wow, what a lovely way to channel your grief and a great website too. Your photos are all beautiful she clearly meant the world to you x (H&H)  

So beautiful. Thank you for sharing it with us. (H&H)  

You were so lucky to have each other. (H&H)

That was lovely, but for some reason it made my eyes leak. JDx (H&H)  

Beautiful, what a wonderful tribute to a special pony. It has also made my eyes leak. (H&H)

Mojo's website is lovely. It is an amazing tribute to your precious Mojo, and your life together, and I really feel I got to know her through your lovely words and pictures. She was such a character, wasn't she, bless her? You should be very proud of having done this lasting memorial to her. Su (Blue Cross Pet Bereavement Service)  

I think your web site is brilliant and I love your garden. (Pat & Chancy Rocket ❣ H in H)   
I'm just looking thru it now and it's magnificent! Wow!. (Ann & Hewitt ❣ H in H)
How wonderful that you have honored Mojo in such a great way. I choked up a few times I admit but it's ok.  Your love was so strong.  Thank you for sharing -- she was such a gift!  I will always remember how she came into your home for Christmas -- so sweet! I hope that this has helped with your journey to have honored your pony in such a fine way. (Karen & Mickey H in H).
That's a beautiful website you put up for Little Mo. Like you, I too am still keenly missing my cat who passed on in Dec 2017 - the pain is deep and long lasting indeed! (Petloss forum)  
I very much enjoyed reading about Mo. I had a good laugh, such as her crab walk. It brings back fond memories of the mischiefs my boys would get into. They would knock something over in another room and upon hearing the crash they would ran out of the room to a neutral area and look at my wife and I, with an innocent face. We always interrupted the look to them saying "hey did you hear that noise, you should check it out....but it wasn't us." Since, they weren't in room when we discovered the mess they could not be blamed. Apparently, it would always work for them. I agree grief never leaves us, but rather manifest itself into something more manageable. Thank you for sharing your story. It is great way of honouring Mo's life and love. Since, my wife and I adopted our two boys from a rescue organization, we plan to buy food and other supplies for them to honour our cats as I know that is something they would want. (Petloss forum)

Today we are lighting a candle in memory of Pennie's lovely pony Little Mo (Mojo). Pennie has created a memorial to Mojo on our Memorial Wall (https://www.petributes.co.uk/memorial/little-mo-mojo/) and a beautiful website dedicated to her, which is so touching. We are very sorry for your loss Pennie. (Petributes FB)  


Thank you for your thoughtfulness and for sharing Mo with us Pennie ❣ She is so beautiful. xxxx (Equine Grief Support Group FB) 

What a dream that you could live together at home for so long and be so close, and have her a part of so many events and family celebrations ❤️ Equine Grief Support Group (FB) 

I love your website. It's a beautiful tribute to your beloved Mo and the relationship you shared. I've done a page for my Paint Angel, A Tribute to Logan, and it has been a tremendous help for me. https://www.facebook.com/LogansTribute/ 

Devora (Equine Loss Support Group FB)
Beautiful story about a cheeky but awesome horse. So very sorry for the loss of such a precious animal. Horses are unbelievable and have been told have ESP. God bless!
Wow, beautiful tribute, can tell just how much a part of your family she was. And what an age for a pony to get to! (H&H)
Lovely tribute. what more could a pony ask for than to be loved like this? JD x (H&H) 
What a lovely dedication to Mojo. She was certainly loved and well cared for. (Chron Horse)

Lovely thoughts. We do miss them. Keep her in your thoughts. Her gift will always be with you.(Chron Horse)

What a lovely mare and a beautiful life. She was so loved!!(Chron Horse)

Your website is an incredible tribute to your beautiful Mo. I think it's the most beautiful loving tribute I've ever read actually. Susie (Pet Loss FB)
Beautiful story, I'm sorry for your loss. Chris (Pet Loss FB)
Beautiful tribute. Michele (Pet Loss FB)
That is just beautiful what a stunning memorial and keepsake xx Eleanor (Loss of beloved pet, FB)
This is a beautiful story. Shirley (Loss of beloved pet, FB)
I see you have Tash to thank for that little white lie. Beautiful story. Mojo is such a beautiful girl. So very sorry for your loss. Sending you hugs and prayers for healing. Lorraine (Loss of a beloved pet, FB)

What a wonderful page - what a wonderfully, sassy girl, and what a beautiful story of reality of your Mojo and the undying love between you.  I am so sorry for your loss, and continued grieving, but with a girl like this, I understand. Tamara (The Rainbow Bridge, FB)
I read your beautiful story. So sorry for your loss of your sweet Mojo Pony and your friend, Dave. Kayla, (The Rainbow Bridge, FB)
Thats beautiful! She was a very pretty pony. I read the first few pages yesterday and just flick back to it in the spare time, she sounded phenomenal. Barton Bounty (H&H)
That's lovely. Hack4fun (H&H)
I have just spent an hour and a half reading the eleven short chapters . WOW.
Neddy man (H&H)
What a gorgeous pony, I'm so sorry for your terrible loss. Lovely website, you've put so much effort in to it and it really shows - a wonderful tribute indeed. I absolutely love the wildlife garden and pond, I hope it continues to bring you great comfort in the months and years to come. As an animal lover, I loved reading about the many garden visitors you'd spotted. So nice that other animals are finding joy there, too. Pmf27 (H&H)
Such a lovely thing to do, she sounded like an amazing pony. I hope you find comfort x. Holeymoley (H&H)
You write so clearly and I am very impressed by your planting lists for Mojo's garden. Your love and care for Mojo shines through. I love the way she sensed when a small person/novice rider was on her back. Truly a very special pony X Philippa (via contact form) 

I just read your website about your journey with Little Mo. Wow. What an amazing tribute to your beloved pony! I don't think I've ever read anything that is more powerful and accurate about grief than on your page about your journey. Thank you for sharing. Tears streamed down my face as I was reading it and thinking "yes, this is exactly how I have felt". I wish I had an answer for you about handling anxiety/panic attacks. They roll over us just as the grief does. Maybe we are better off not trying to escape them; maybe it's part of acceptance of the finality? Beth (The Equine Grief Support Group, FB).