HoneyWood Farm 2004-2011/2014
A New Yard
In 2004 we met Jez Stickels and moved Mojo and Parry to Honeywood Stables. I still remember the day we first turned her out in a new field of her very own. She was so excited that she pranced all the way round in an elevated trot, it was amazing, I'd never seen a horse do that before and had to ask someone what it actually was! Mojo had a sweet little open stable in a covered barn. We were so excited to put up all of her bridlehooks and rug rails and she was so happy and contented there. 
Later Jez had another stable block built and she had a lovely cosy new home. She had a dear little stall next to Parry and we were so very excited that we would decorate the stables and tack room for Christmas. We found some lovely new rides around beautiful set-asides and different country lanes. It was a small yard, quiet and peaceful there which we shared with Anna, Sam and Dee and their horses. Over the years other people and new horses and ponies came, and some went again, but it was always friendly. We got to know Geoff, Jane and Pete very well and enjoyed going to their Christmas get togethers at the farm.
Fun at The Farm
Mojo was still quite a pickle, bolting on occasions, from things like noisy car mud flaps, barking dogs, motorbikes and workmens' umbrellas! Despite that, I loved her to bits. She could be so laid back, letting our grand-daughters, Lily and Maisy, and my friends' children groom and go for little rides on her. Tash was always really well balanced on her and we once found her cantering Mo bareback in the field, with a head collar on and lead ropes clipped to the side for reins. What a sight that was....
Later, Tash started working at an equestrian retailer and she was able to get discounts on horsey things! Of course this meant that we bought Mojo a ridiculous amount of stuff! Our son, David paid for us all to go to the horse shows at Olympia for a couple of years, where we bought Mo so much more horsey stuff that we had no where to put it all!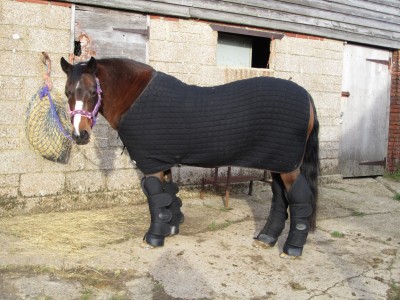 Mojo, wearing her beautiful thermatex rug and Mark Todd travel boots
What Mo did...
Mo still had a bad habit of kicking things. She knocked down the wall in the new stable block, which Jez and Richard then had to rebuild! She also noticed a coloured cob called Paddy, laying down in the field one day and cantered over to give him a huge kick whilst he was trying to have a sleep. Not content with that, she went on to break my ankle by racing past me and catching it with her hoof. It didn't stop me playing with her though, I used a special little knee scooter to go out in the field and carry on with the fun.
As Mo got older, she wasn't without her troubles. She sometimes became cast and appeared to suffer occasionally from colic. I remember getting a very worrying phone call to say that she had developed colic in the field and our good friends from the yard, Pat and Gary, had helped Tash get her into her stable. What a worry that was. Fortunately, by the time I got there, the vet had been out and Mo had started to recover, for which I was very thankful! She also suffered from mystery shoulder pain at one point making her dreadfully lame, poisoning from sprayed corn in the field which she ate whilst out on a ride, COPD in later years which required an inhaler and a major resection on a hoof which had allowed gravel to get inside. Despite these problems, she remained content, she was well-loved, well cared for and lived a vibrant happy life.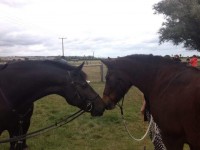 Mojo meets LuLu
Finding Confidence
I had started to lose a lot of confidence in riding though, because of some bad falls on other horses, and had become very nervous of trying to ride Mo out on her own which she didn't like, although I still loved walking her out in hand. In the summer of 2011, I was fortunate enough to be put in contact with Cathy, through Jez. Cathy put me in touch with natural horsemanship and the language of horses and from that day on I started to develop a wonderful bond with Mo. After a couple of failed attempts, I became confident enough to ride her out on her own and we had great fun playing games in the fields, at Honeywood, at home and on our rides.
Click here to read about the relationship that developed, fun and games with Cathy and natural horsemanship
Fun Day at Honeywood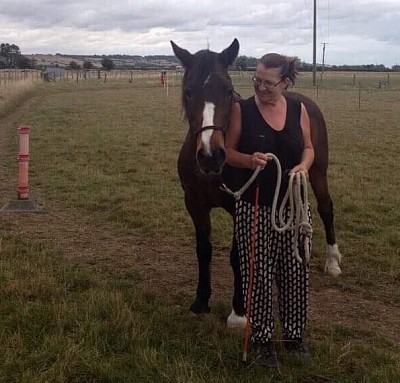 Mo and me, after we tackled a course at the games
In the late summer of 2016, Honeywood held a fun day for all the horses and ponies at the yard, with a barbecue in the afternoon. Mojo was living at home at the time, but we walked her back to the farm and joined in with a couple of the unridden games. She got very excited and showed off her beautiful paces and jumps. Afterwards she was awarded a rosette for the loveliest veteran pony, I was so chuffed.....