Coping with the loss of a horse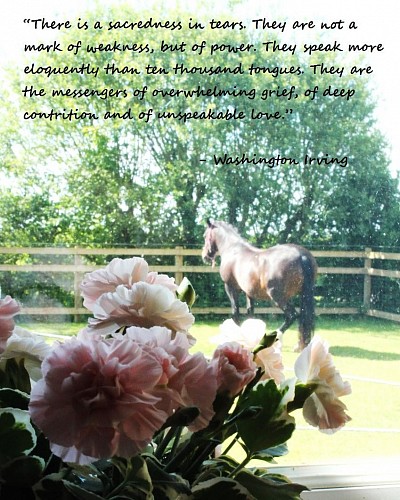 The loss of a heart horse
To lose a heart horse or indeed any animal that you have a truly special bond with can feel like losing part of your DNA.....
For those of you who have suffered the loss of a heart horse or pony, I hope that the story of my journey in grief and the ways in which I have found that help with managing grief, along with ways that I have gathered from others, will help give you comfort and help you in your own personal journey.

How to manage grief when you know the time has come
Anticipatory grief
I felt that in a way, I partially experienced this with Mo, because although her death was quite sudden, I had been expecting that at some time in the near future, she would either pass away naturally or need to be euthanised because of her age and her past and present health issues. 

This didn't become clear to me until I spoke with a lovely lady from The Blue Cross Animal Bereavement Service. I then began to realise that in the months before I lost Mo, I had thought about how my life would change when she was no longer here and this actually left me with terrific feelings of guilt after she died. 
I thought back on when our beautiful big black mare, Parry had been euthanised some years before, and could see that I had already begun to grieve from the minute we had made the decision and had contacted the vet.
If you know that you are going to have to say goodbye to your horse on a particular date, you are very likely to feel a loss, even though your beloved horse is still alive. This can be incredibly painful. When we did set the date for our mare Parry to be put to sleep, I felt overwhelmingly distraught. I hated the fact that everyone else at the yard was still carrying on with their daily business and couldn't be around them. I would groom Parry quietly in her stable or take her to the field and sit with her. Whilst I found the decision terribly difficult to make, I never doubted it and felt incredibly lucky to have been able to have those last days to tell and show her how much I loved her, something I later realised that could so easily be taken for granted.

I have found a extremely good website which discusses anticipatory grief. Please click on the link below, to read more.
https://www.veterinarywisdom.com/single-post/When-You-Know-You-Will-Soon-Lose-Your-Pet-The-Experience-of-Anticipatory-Grief
What you can do if you have the chance
Things you can do when the time comes if you are able. Here is a wonderful list of suggestions from Roma Konyk Hanson (fb), who says, 'not everyone needs these little rituals, and sometimes it's not possible. I've found these things to be helpful for myself. Take what you need. Give yourself ample time to grieve'
Reach out for help to other horse people.

Stay with your horse for the end if you can, and don't beat yourself up if you can't be there.
If you have time before, write a letter to your horse and place it with them after.

Tell your horse how much you love them, thank them for all the gifts you received from them. They know and are comforted by your voice. Use it gently.

If you are fortunate enough to have your horse buried, put some things in the grave with them. (The kind backhoe operator who was my mare's undertaker said he was digging a grave, not a hole, and he made it perfect for her. Such compassion!) You might include:Their blanket to lie on, a piece of jewellery or clothing that you often wear, photos of you and your horse, a letter to your horse, a lock of your own hair (nice trade for keeping some mane or tail). 

If you have not been able to put things with your horse at the time of burial, you could bury them at the gravesite at a later date, or possibly put them inside the casket containing the ashes or just put them nearby.
Other ideas
Record the sound of a nicker or neigh 
Have some professional photos done 
Cut a lock of hair, tail or mane long before the time comes If you can
There is also a service offered in the UK by the BHS. It is called Friends at the End. It offers support to those making a difficult decision and a volunteer can even be with the owner when the time comes or with the horse if the owner feels unable. Please click on the link below to find out more.
https://www.bhs.org.uk/our-work/welfare/our-campaigns/friends-at-the-end
Grief, my journey
"Grief, I've learned, is really just love. It's all the love you want to give, but cannot. All that unspent love gathers up in the corners of your eyes, the lump in your throat, and in that hollow part of your chest. Grief is just love with no place to go."― Jamie Anderson
The early days after Mo's death really were almost unbearable. When I woke up in the mornings, I just wanted to cry, and mostly did. There were times when part of me felt that I wished I had died with her. It felt as though part of my very soul had gone with her and a light had gone out.
Sometimes I just wanted to run away from it, or sleep so that I couldn't feel it. I went through periods of putting all of Mojo's things out of sight as I found it so upsetting, to then getting everything back out again so that there were reminders of her everywhere because I felt guilty. It was confusing and upsetting. 

My first thought in the mornings had always been Mo, for nearly 18 years, because she would need feeding and mucking out. The first thing that I used to do, was to go to the landing window, pull up the blind, call good morning to her and wait for her to neigh loudly back at me. Then I would rush downstairs to give her breakfast, followed by hay, mucking out, groom, change of rugs, fresh water and turnout. For her not to be there was hard enough in itself but to have no routine and work outside to do simply made it much worse. There was an emptiness.....
Christmas and my birthday were hard, the first ones without her. In the months that have followed, I would often think that I was beginning to feel slightly better, to be able to look at the beautiful memories I had of Mo but then I would have a bad day when the reality of it all came flowing back and those days have been really difficult and painful. I know that people find it hard, to know what to say or do for the best. For me, I feel upset when people don't mention Mo and although I know it may make others feel awkward, it's still very comforting to talk about her and to feel that other people care and remember her. It is lovely to be involved in conversations about her, happy or sad, so for those of you who know me, please talk to me about her, share my memories and yours. She has been a huge part of my life and always will be.....   
Time has now begun to ease the intensity of the pain but so many things can just trigger the sadness in an instant and without warning. Grief is so confusing. Some days you feel that you are making your way forward, only to be confronted without warning, by overwhelming feelings which make you feel as though you are back where you started. They say that grief comes in waves and that is very true, it is indeed like being in the sea. Some days it is rough, then a calm and then a tsunami, you never know what each day will be like until it is upon you. There are so many emotions to deal with; anger, guilt, longing, loss, shame, devastation, relief, regret, loneliness, frustration, sadness and confusion. The list is endless. To me, the worst of them all and the most consuming, have been longing and guilt..... 
Since I have been able to start to remember all of the fun and love we shared and all of the silly and quirky things she did, life has been a little easier. I bathe in the memories of her strange little character and how much joy she has brought into my life. Just recalling the time she sunk her teeth into Tasha's arm when we came back from our one and only holiday because she was angry that we had left her, still makes me laugh. How Tash cried, and she had been so excited to go into Mo's stable to give her a hug. We had actually only been away for 3 days! Mojo was having none of it! I also love to think of her constant pushing and shoving me out of the way for treats when I came out of the feed shed. It brings a huge smile to my face, food orientated is an understatement for Mojo!
I've made this website not only for myself but also for others to be able to read about Mo, our life together, my journey after her death and how to discover ways of managing grief. It has been very cathartic. I hope that it will be a legacy for a truly wonderful pony that has made a massive difference to my life. Please feel free to
contact me,
email, message or text to send me your memories and thoughts of Mo if you knew her, or anything you have to say about her website. 
Coping with the loss of a horse - How I managed my grief
Coping with guilt and regrets

Find me someone who hasn't felt guilt or had regrets when their horse has died...I guarantee they will be the minority. Coping with guilt was one of the most difficult things that I had to manage. Guilt was one of the foremost emotions that I experienced when Mo died. Should I, could I, why didn't I, what if I had done this or that? The list was endless. From reading the stories of others, guilt is profound whether the death is accidental, expected, sudden or a carefully planned euthanasia. 
I read about it, everywhere that I could because it was so unbearable and it began to take over my grief which made me feel even more guilty. I shared my feelings of guilt with others and read about their feelings of guilt also. It was in doing this that I found comfort and also made some very special friends along the way.
What I discovered was that there are two main types of feelings guilt, those that are valid and rational and those that are not. Talking them out will often sort out which is which. Imagining that a friend is telling you those feelings of guilt and what you would say to them can also help rationalise them. 
Once I was able to sort out which feelings were rational, I decided that I would put them to use by helping others. I made a donation to a rescue, I always make sure to warn others of the dangers and possible causes of colic (although we all know that in so many cases, it simply can't be prevented), made sure that I spent time every day telling my little dog how much I loved her and most of all, I now try to live in the moment....
I contacted my vet and discussed some of my worries and whether the way I had managed Mo had contributed to her death and she explained how this was not the case. When I understood that some of my guilty feelings were totally irrational, they began to fade. 
The website that I found which helped me incredibly to deal with my many feelings of grief, both rational and irrational, is from the link below. Please take a look, it really clarifies guilt, the reasoning behind it and how to deal with it.
https://whatsyourgrief.com/guilt-and-grief-2/
Regrets were in abundance. Why didn't I spend so long grooming on such and such a day? Why didn't I realise how much she meant to me when she was alive rather than when she was no longer here with me. Regrets are hard to live with and I think for me and maybe others, they bring a feeling of shame. I try to take those regrets and put them into something positive. I make sure I put time and effort into all that I love dearly and make sure that they know how much I love them, both human and animal.........it won't change the past but it does change the present and will mean that I never feel that way again.
Processing the loss 
The more I read, the more I realised the processing the loss of a horse is foremost to the start of the grieving process. Sometimes it helped me to totally use distraction and keep myself busy with things unrelated to Mo. At other times when I felt I could cope with it, I found it helpful to work through my grief by busying myself with things related to her.  
I 
found that doing the following things amongst others helped me process my loss. It made me feel connected to Mo, and in a way, continued our relationship, albeit down a different path. I wanted to share some of the things that have helped me in that journey, in the hope that it may help someone else. I thought it might help some of you to list some of the cathartic things that I have done in one place: 
Collected together all Mojo's photos, both digital and printed and put them into albums.

Made a memorial table with Mojo's ashes and special things in my bedroom  

Created a garden in her memory, Mojo's memorial garden

Planted her a special rosebush  

Had memorial plaques made to go in her special garden  

Had a slate head made in Mojo's image (in centre photo further down page), painted by Lou. See examples of her work by clicking on the link below
https://www.etsy.com/uk/shop/Colouflower?ref=condensed_trust_header_title_items
Talked about her to friends, family and strangers  

Collected together handmade momentos and paintings

Bought myself a cuddly soft toy

bay pony, for which I've had fun making beads and a head collar for. I've sewn some of Mojo's own mane into the forelock.

Made tassels out of her tail and mane hair  
Practiced mindfulness meditation to help calm my mind
collected things together to make a scrapbook in the future
Made cushions and throws from her old blanket
Made a memorial wall
Made a memorial video
Discussed my feelings with my vet
Had jewellery made by Helen (cremation beads containing ashes, tail, mane and body hair, see photo on left further down page) and then wore it on a necklace and Pandora bracelet. For examples of Helen's work, please click on the link below.
https://www.etsy.com/uk/shop/helenlouisejewellery?ref=l2-shopheader-name 

Written letters to her  
Talked to her aloud and in my head  
Written tributes to her in different forums and groups  
Used forums to talk about my loss and the awful feelings that come with it  
Made online friends through pet loss forums and groups  
Created a website in her memory
Lit a special candle
Had a special solar light made by Kate, for Mojo's memorial garden. For examples of Kate's work, please click on the link below.
https://m.facebook.com/CraftIn3D/ 
Decorated and remodelled the inside of her stable into a beautiful retreat/studio
Contacted the Blue Cross Animal Bereavement Service. This is a free service in the UK. You can use the service via phone or email.
https://www.bluecross.org.uk/pet-bereavement-and-pet-loss
What to expect from grief......  
I'v
e come to understand that grief doesn't really ever leave us, it just becomes easier to carry. I thought it might be helpful to put together some things that have helped me and that may help others who have lost their beloved horses and ponies.    
A list of what to expect, taken from helpwithgrief.org. Many thanks for sharing this Maria (HiH)  

1. Expect grief to be a process that will last longer than you expect.    
2. Expect intense and changing emotions.    
3. Expect to feel physical effects of grief, including fatigue.    
4. Expect that you won't feel like yourself for a long time.    
5. Expect to feel lonely.    
6.. Expect that other people will soon go back to "normal" life, but that it will take you some time to find your "new normal."    
7. Expect to feel afraid that more terrible things will happen in your life.    
8. Expect to feel as if nothing is important anymore.    
9. Expect that you will feel happiness again.    
10. Expect anger.    
11. Expect more tears than you thought possible.    
12. Expect that most people will stop talking about your loved one around you.    
13. Expect that some people will seem nervous around you, and that some may even avoid you.    
14. Expect that on some days it will be a big accomplishment if you take a shower.    
15. Expect that everyday conversations will seem meaningless to you, and in fact, may make you angry.    
16. Expect the grief to soften with time.    
17. Expect your partner or spouse to grieve differently than you do.    
18. Expect to feel raw, wounded, and heartbroken.    
19. Expect that you will have little energy and less patience on some days.    
20. Expect guilt.    
21. Expect good days and bad days, and early in the grief you may have good hours and bad hours.    
22. Expect to feel that there could not possibly be better days ahead (but there are).    
23. Expect that people will not know what to say, and that some will say really stupid things.    
24. Expect that you will never be quite the same as you were before, and recognize that it is okay to build from where you are now.    
25. Expect to feel crazy at times (but you aren't)..    
26. Expect to always love and remember your loved one.    
27. Expect people to think you should be "over" your grief when you are right in the middle of it.    
28. Expect to need support to get through this.    
29. Expect that you will find things that make you smile again.    
30. Expect not to know what to expect.     

Friends, family and other people
One thing that I learnt quickly was that grief is unique to the individual. You will be the only one who had the relationship with your horse that you had. You will be the only one who has particular guilt like the what if, why didn't I and should I have? Because of these things, no one else is going to feel exactly the same way about the loss of your horse as you do. Some may be able to understand and empathise and many will not. It can make you angry and frustrated, it sure did me.
At some point, I came to realise that it wasn't nastiness, it was just often a different point of view, a longing from those close to me that they just want to 'fix things' 'make me happy again' or that others felt uncomfortable around my grief so I chose to express it more on forums and groups. It was there that I found tremendous support and the feeling that others understood and I was not alone.
That is not to say however, that I didn't have support from my family and friends, I am fortunate to have a kind and loving husband who although he couldn't feel my grief, accepted in time that I had to express it. 
Why pet loss needs to be taken seriously
An excellent write up on the impact of pet loss and why it needs to be taken seriously.
The Waves Of Grief
As for grief, you'll find it comes in waves. When the ship is first wrecked, you're drowning, with wreckage all around you. Everything floating around you, reminds you of the beauty and the magnificence of the ship that was, and is no more. All you can do is float. You find some piece of the wreckage and you hang on for a while. Maybe it's some physical thing. Maybe it's a happy memory or a photograph. Maybe it's a person who is also floating. For a while, all you can do is float. Stay alive. 
In the beginning, the waves are 100 feet tall and crash over you without mercy. They come 10 seconds apart and don't even give you time to catch your breath. All you can do is hang on and float. After a while, maybe weeks, maybe months, you'll find the waves are still 100 feet tall, but they come further apart. When they come, they still crash all over you and wipe you out but in between, you can breathe, you can function. 
You never know what's going to trigger the grief. It might be a song or a picture but it can be just about anything...and the wave comes crashing. In between waves, there is life. Somewhere down the line, and it's different for everybody, you find that the waves are only 80 feet tall or 50 feet tall and while they still come, they come further apart. You can see them coming. An anniversary, a birthday, or Christmas. You can see it coming, for the most part, and prepare yourself and when it washes over you, you know that somehow you will, again, come out the other side. Soaking wet, sputtering, still hanging on to some tiny piece of the wreckage, but you'll come out. 
Take it from someone who knows. The waves never stop coming, and somehow you don't really want them to but you learn that you'll survive them. Other waves will come and you'll survive them too. If you're lucky, you'll have lots of scars from lots of loves and lots of shipwrecks.

Adapted from GSnow
https://www.reddit.com/r/garysully1986/comments/6g3brt/gsnow_on_grief/
Why grief is not something you have to get over
I found the following two videos extremely helpful. So many people talk about 'getting over grief' and 'moving on with your life'. These videos explain perfectly, why it isn't that simple and does st have to be that way.
There isn't a time limit on grief. You don't 'get over it'. The following video gives an explanation on how grief sits with us during our lifetime. Many thanks for taking the time to send me this Debbie. For more information please click on the link below  

https://m.youtube.com/watch?v=X55TJRj9HUk   

Nora McInerny Gives a Ted Talk about moving forward with grief.  For more information please click on the link below  

https://www.ted.com/talks/nora_mcinerny_we_don_t_move_on_from_grief_we_move_forward_with_it?utm_campaign=tedspread&utm_medium=referral&utm_source=tedcomshare
Grief - The Ball And The Box
Why you can't just get over grief.....
In 2017 Lauren Herschel shared on Twitter, the analogy her doctor used to help her understand the grief process. It's helped countless numbers of people struggling with their loss since then. It might just help you too. 

There's a box with a ball in it. And a pain button.

In the beginning, the ball is huge. You can't move the box without the ball hitting the pain button. It rattles around on its own in there and hits the button over and over. You can't control it – it just keeps hurting. Sometimes it seems unrelenting.

Over time, the ball gets smaller. It hits the button less and less but when it does, it hurts just as much. It's better because you can function day to day more easily. But the downside is that the ball randomly hits that button when you least expect it.

For most people, the ball never really goes away. It might hit less and less and you have more time to recover between hits, unlike when the ball was still giant. 

- Lauren Herschel December 30, 2017
This is such a good example of how grief stays with us..... 
Taken from:
Hanging on to grief-not wanting to let go of the pain
Along my journey of grief just after the one year anniversary of losing Mo, something changed. It was quite subtle but noticeable. I realised that I was was crying less often, and there were longer periods when I would find my mind occupied by thoughts other than Mo. In the times that I was thinking of Mo, doing things on her website or going on forums about the loss of horses, I wasn't feeling as deeply upset.
'That's good', you would think. I felt just the opposite. It was quite terrifying, I hated it once realisation of the change crept in. I didn't want to let go of the pain, the grief.....in letting it go I felt I was losing any connection that I had with Mo. Of course, the first thing I did was research, as always. Was this what happened to people? Did it mean I was forgetting her? Did it mean I never really loved her as much as I thought I did? The list of questions and panic went on. Eventually I stumbled across a website that really did explain it all and helped me feel much better about what was happening.
It was on that particular website that I found some of the thoughts that other people had encountered with the journey of grief....
I feel okay today, this must mean I am forgetting my loved one!!
My suffering is a sign of how much my loved one meant to me.  If I'm not suffering my love for them must be diminishing!  
If I stop feeling the deep pain of grief it is a sign life can move on without my loved one and I just won't let that be true. 
I knew how to be a wife and I know how to be a grieving widow, but I don't know how to be a widow who has good days and is moving forward.  
The only thing that keeps me connected to my loved one and keeps their memory alive is the deep pain of my grief.  Any little piece of that grief that disappears is another piece of my loved one disappearing.
So what was the way forward, what was I going to do? It felt like there were two choices. Either to be constantly in the pain of continuous grief or to lose the connection and the bond that I treasured so much.....
It was here that I found the answer to my personal dilemma. I would strongly suggest taking a look at the website, if you feel like I did. It offers a really comprehensive was of looking at things.

https://whatsyourgrief.com/grief-and-the-fear-of-letting-go/

For me, the answer was in continuing bonds. 
Continuing bonds
Many people want to continue their bond with their loved one after they have died. The 'continuing bonds' approach suggests that when a loved one dies, you can slowly find ways to adjust and redefine the relationship with them, allowing for a continued bond that will endure, albeit in different ways and to varying degrees, throughout your life. Continuing bonds suggest that continuing ties to loved ones in this way is not only normal and healthy, but an important aspect of the grief experience. Rather than assuming detachment as a normal grief outcome, continuing bonds considers natural human attachment as the norm even after a death. For more on this, please click below.  


 https://whatsyourgrief.com/grief-concept-care-continuing-bonds/ 
Ways I have found of continuing bonds
Spent time working or sitting in Mojo's memorial garden
Written letters to Mo 
Talked about Mo to other people 
Set up and maintained Mojo's website
For me personally, there are still times when I totally have the need to experience and feel the pain of the grief. It stops me worrying that I am losing a connection or forgetting Mo. My way of doing this was to take two of the photos of Mo and me that moved me emotionally more than any others. I pinned them to the inside of my wardrobe door. They are not on display, but when I need to, I go and stare at them. It never fails to bring back the intense feelings I have for her and much needed tears, and it helps me to feel secure in knowing that I will never lose that connection with her....
Other horses in your life
Horses who grieve when their companion has died
Mo lived at home with us in her twilight years, she had no equine companion, we were her herd and we grieved for our loss. Many horses, like us, also appear to grieve for their companions......
There isn't too much helpful information out there on the subject of horses grieving but what there is suggests that what they might experience is more the separation anxiety that they might experience if there pasture mate was taken away rather than the feeling of loss that we feel. I don't know the answer to that, I might disagree but the result is still the same, they might suffer.
There are many suggestions that it helps horses process the death of their companion if they can spend some time with the body afterwards. The main thing I have read about horses grieving for another is that they may benefit from more human time being spent with them. For example just standing gently talking, grazing in hand, gentle grooming. For a horse left on its own, there is the clear option to find a new field buddy, but in some cases this doesn't work. Some owners feel that the best thing to do, is to have pair bonded companions go from this world into the next together. Of course, there are going to be many, many people who simply can't understand this but it really is something that, that particular owner knows to be the right thing for the horse which would be without its lifelong companion. It would be nice if those owners weren't judged so harshly as often is the case.
I did find two interesting and seemingly helpful website on this. To find out more, please click on the links below.
https://www.primestables.co.uk/horse-care/do-horses-grieve-when-they-lose-a-family-member-or-companion/
https://equinewellnessmagazine.com/helping-grief-stricken-horse/
Whether to have another horse?
A question which some of us find it so hard to deal with. No one knows but you....For me, at the moment I have decided not to have another pony. There are many reasons but guilt, which is a major problem for some, is not one of my reasons. I do occasionally see and groom other horses. I haven't ridden. I do miss having my pony, every day, but I am finding happiness in other things and I take the love that I have for her, forward in my every day life. 
So some people find it hard to look after other horses they already have when one dies, others find it hard to be horseless. Some develop wonderful bonds with other horses, some do not. Take the time you need. Losing a horse is traumatic......
Take time to think and feel what you may want to do. If there is love there to give to another and that's what you want and are able to do, then don't deny yourself that honour and opportunity, especially from guilt. 
Love is there to give and share.......
Shared Grief
When someone we know loses their horse, it can be as upsetting as if it were our own. We may share their grief. My friend lost her old pony this year and when I heard, I burst into tears. I felt grief for her, the pony and myself.....
A lady that I had got to know via a Facebook group for equine grief, recently told me of her experience when her friend lost her horse. She said that...
"It tore my heart apart, not just because it brought back my loss but I also loved their horses. I really felt that their loss was my loss too. "