Anniversaries (Angelversaries)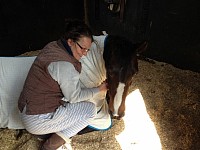 Managing Anniversaries
I soon learnt that some of the hardest things to manage, are the anniversaries, the memorable dates that are triggers for deep emotion. 
The first ones were extremely difficult and by far, the worst. The first Christmas, the first birthday for me and the one year anniversary of Mo's death. 
I have tried to make new special memories for those days, ones that celebrate the wonderful moments that Mo has given me, and that I too, have given her.
I do hope that you will enjoy reading about them and that for some of you, it may give comfort and ways to celebrate and commemorate the lives and memories of your horse on your own special and meaningful anniversaries.
Angelversaries in the years that have followed the ones mentioned below are always celebrated now by the lighting of candles, the tying up of special ribbons and some flowers next to photos of my beautiful girl……..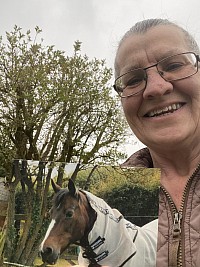 Six Month Angelversary of Mojo's Death
On the six month anniversary of Mojo's death, I published this website it was the one thing, out of everything that I did that really, really helped me. By putting her website link on various groups and forums, I hope to create a lasting legacy. I would also like to think that our story can help other horse owners too, who have lost their beloved equines and give them some comfort in their loss.     
I am constantly adding to her website and updating it with the lovely comments from people who have read it. I've also seen a website that shows you how to use images from the past and bring them into the here and now. It's a way for me to keep Mo's memory alive and this was the photo I created 6 months after I lost My beloved Mo.
One Year Angelversary of Mojo's Death
It's hard to believe that it's been a whole year since my darling Mo died. Some days it seems like only yesterday, yet other days it feels like years and years have passed. Feelings come and go and change rapidly like the wind. I'm getting used to a sudden surge of grief that appears from nowhere unexpectedly.  
I am so thankful for the new friends that I have made on different forums and Facebook groups. It is their understanding of going through similar circumstances that has helped me to get through these past 12 months along with the continuous support of my everloving husband. 
I can honestly say that I still miss Mo every single day. I am lucky that I have a wonderful little dog who has given me focus along with a new hobby which is that I have taken up cycling.
I knew that today would be a hard day, the really difficult memories would come flooding back, and they did. Memories of that night and the emptiness that followed. I wanted to make it a positive day, a day that would signify all the wonderful things that Mo had brought into my life. How she taught me to live in the moment and live life to the full, to look at life from a different aspect and to consider the world from the horse's point of view. Most of all, she filled my life with happiness...... 
I had a most wonderful morning spent with Smirti, who runs Little Warden, in Brasted, Kent, a non profit organisation supporting rescue ponies from Pukka Ponies Equine Rescue, a small rescue charity in Kent. Sarah from Pukka Ponies Equine Rescue had very kindly arranged for me to visit after I had contacted her. Please click the links for the Pukka Pony website, they warmly receive donations and have a number of equines for rehoming. 
http://www.pukkaponies.org.uk/
There I met two adorable ponies, Pumba and Silver. I spent time grooming and stroking them both and found out a lot about the charity and the work that Smirti and her family carry out at Little Warden. Smirti, the lady fostering the ponies, is a very kind lady who clearly has her heart set in helping the ponies on their way to enjoying life to the full and finding them new homes. She is also totally committed to educating adults and children in how to treat and understand ponies and horses. Smirti also holds many fund raising events and her website is well worth a visit. The ponies themselves, are absolutely gorgeous. Silver, a stunning grey with a most amazing beautiful face and gentle expression of the eye is a sight to behold whilst Pumba with his cheekiness, mind blowing markings and pure lovingness, if indeed that's a word, would be adored by both adults and children alike. If I had been looking for a pony to take home, he would have definitely fitted the bill. 
It was such a relaxing morning, I just don't know where the time went. Standing in the field with the ponies gave me such a feeling of warmth and sense of peace that I knew that this had been the best thing I could have done with my day and that Mo would be watching me. I came away feeling very calm and I hope that my beautiful Mo could see how worthwhile a donation will be in her memory to this wonderful charity. If only everyone who owned a horse or pony were as committed and caring as these charities, then the world would be a much better place. We will be sending off our donation in the post along with a lovely handmade card. Please click the link below to find out more about Smirti's wonderful organisation.
On our way home, we stopped at Sissinghurst Castle. We went for a look round the beautiful gardens and came across a lone dried up agapanthus. To most, this wouldn't seem strange, but to me, it was amazing. I had commissioned a lady to make a copper solar light for Mojo's garden, the light is based on an agapanthus, from the castle so it was lovely to find one lone plant there. We walked into the centre of the gardens and were greeted by the most beautiful big fluffy robin who stood inches away from our feet, what a wonderful visit.
Our last stop was at Tenterden where we roamed the pretty high street and then went on to the beautiful church of St Mildred's. There, I lit a candle in remembrance of my beautiful Mo and wrote a prayer for her which is read during the evening service. It's a lovely peaceful church and we often pop in and have a wonder around.
Last trip was our return home where we found Mojo's new solar light flashing and glowing happily in her garden. We lit all the candles in her stable plus the Mojo Mohito candle that I had saved for the anniversary. We then opened a bottle of bubbly and said cheers to our Mojo. We reminisced some of the funny times we had shared with her and of course I had a good cry over the years I wished I could still share with her.
For the link to Craftin3d who made Mojo's solar light, please click below.
https://m.facebook.com/CraftIn3D/ 
The Anniversary of The Morning After...
The day after I lost Mo is possibly one of the worst days in my entire life. That emptiness, the initial feeling of torment on waking. The morning after Mojo died will always be a day that tugs my heartstrings as it was the day that Mo finally left our house and the first one in which I awoke to find myself without her. On the Angelversary of that day, I chose to go to the end of the garden, the route which was used on the day she left, and I blew some bubbles to celebrate the wonderful times we had shared. We then drove to Kearnsey Abbey and took a short walk around the pond. Then we sat in the same spot that we had sat when we went there on the morning after Mo died and had seen the amazing rainbow. No rainbows this time but a clear blue sky and some beautiful swans and cygnets that made my day.
All in all, it was a lovely day and a meaningful morning that followed. Some wonderful memories were shared of a truly wonderful pony........
I will love you always Mo.
Xx
There is life after losing a beloved horse or pony but it takes time, and it's a different life. For those of you who may be suffering a similar loss, my heart goes out to you. May you find peace in the memories you share of your beloved companions xx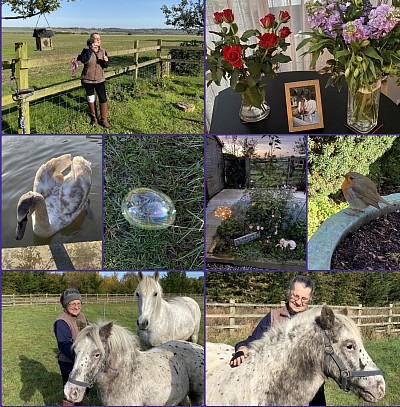 Two years.....
It seems impossible to believe that it's been two years.....I miss Mo each and every single day. The pain of grief is less but her presence is so deeply missed. We decided to go for a lovely walk and lay some flowers in the woods where Mo safely took me over some fallen trees. I so remember the excitement I felt that day! Pure adrenaline and happiness...
We toasted my beautiful girl in the stable with some special pink fizz.
27th October, 2020.
In memory of my beautiful Mo.....
Loved you yesterday
Love you still
Always have
Always will.....
Christmas
People may not understand that these days still upset us and sometimes we have no option but to just accept that's the way some people are. We shouldn't allow that to stop us being able to engage with our grief. I have put together a list of ideas, some my own and some from others, that might help you to remember your beloved horses at Christmas.
Display a favourite Christmas photo in a festive frame
Write down some special Christmas memories
Make a donation in memory of your beloved horse and send it in a Christmas card with a photo of your horse
Write a Christmas card, poem or letter to your horse
Share a Christmas memory of your horse on social media
Light a Christmas candle
Decorate a Christmas wreath and place it at the yard or a special place
Hang up a special Christmas mobile for your horse
Make a Christmas memorial table
Buy or make a personalised Christmas ornament for your horse
Say a special prayer
Tie a ribbon on your Christmas tree in the special colour you used for your horse

The First Christmas Angelversary
That first Christmas was so incredibly hard. It didn't feel right to celebrate without Mo here. I was so lucky to have all my family about me for Christmas and for a Christmas family time, we all went to Leeds Castle. There, we walked around the beautiful Christmas market and drank a glass of punch to toast Mojo. Afterwards, we looked at the stunning room decorations and Christmas trees in the castle. Finally, we all rode a horse on the carousel and I held on tight and celebrated the love I had shared with my beloved Mo.
I had a special wooden decoration made with Mo's name on and I bought a clear glass bauble in which I put some of her mane.  
The Second Christmas Angelversary
On the second Christmas without Mo, I put up some of my favourite Christmas photos of her. It was the day that I put her special Christmas outfit on her: Reindeer antlers, red leg wraps with bells and matching red and white fur trims to put around her halter. It still brings tears to my eyes and a lump to the back of my throat but I look at it and try to think on how lucky I have been that she came into my life. My best Christmas memory was the year that I rode her Christmas morning and then brought her into the house!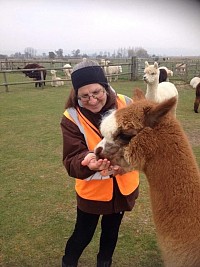 My First Birthday without Mo
I didn't want to celebrate my birthday that first year but my husband took me for an Alpaca Trek and it turned out to be very lovely. It was really relaxing and enjoyable to pet, feed and walk the alpacas!


My second and third birthdays without Mo
My second birthday without Mo was incredibly hard. Now only was it my 60th, one I hoped she would be here to celebrate with me, but it was during the COVID 19 lockdown of 2020. 
We spent some time in her stable, which I had decorated and lit a special candle in her memory. At the end of the day we saw a beautiful sunset which seemed to have a rainbow of colours. I figured that was Mo, wishing me happy birthday.....
My third birthday without Mo brought a surprise. Richard gave me a beautiful  Pandora charm for my memorial bracelet. It was a rainbow.......