Little Mo (Mojo), circa 1983-2018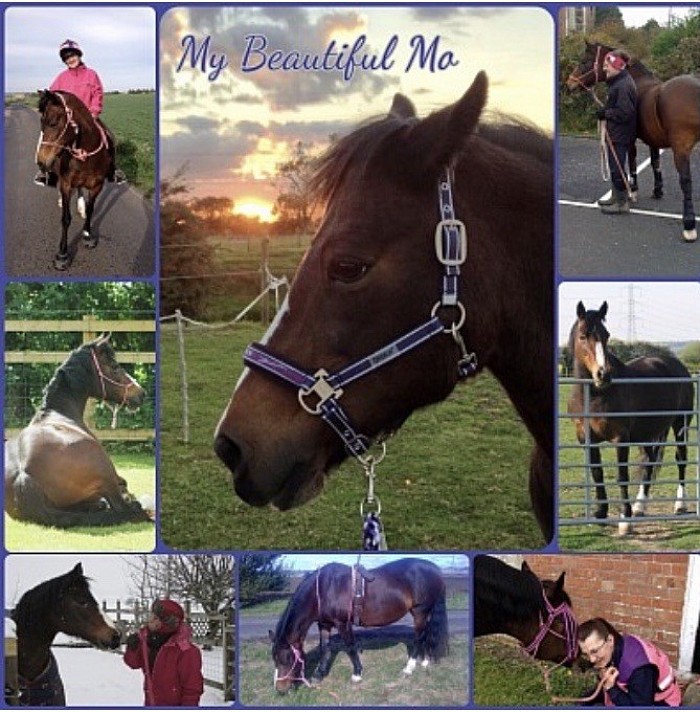 My Little Welsh Mare!
Little Mo
A 14hh pony of Welsh type. Bay mare with dapples as the seasons changed. Three white socks, a crooked blaze, a tiny white star on the forehead and smidges of pink and white under the lower lip and at the bottom of the blaze. Half a mane and a beautiful black silky tail. A powerful neigh, a gentle nicker and a kind eye.  A mischievous character and an overwhelming love of food. In short, the most adorable pony you ever saw..........  
I began building this website in the early months following Mo's death, as a way of coping with the many emotions that became at times, overwhelming. What started as a basic website, soon began to flourish into a wonderful story of our life together over the years and eventually the discovery of ways in managing grief. I do hope you enjoy reading our story.
Lower Wall Yard 2002 - 2004
Where It All Began
In the summer of 2002, we visited Lower Wall Yard to learn more about grooming and looking after horses, just for fun really. I had no actual intention of buying but before I knew it, we had looked at a little pony who was up for sale. That was Little Mo (Mojo). She was at a yard in Lower Wall, owned by Dave Pentacost. 
When Dave first showed her to us, I thought that she was a funny looking little thing. She had a very strange mane with a sort of quiff in the middle, like a teddy boy! She had a very crooked white blaze and a tiny wonky star that was more like a stripe on her forehead! 
She was quite rounded. She was in fact so round, that she later rolled onto her back in the field, in a tractor rut and became completely stuck!
A young girl called Jodi rode her in the field for us and took her over a couple of jumps. She looked so well behaved that Tash (my daughter), took her out on a hack with Dave to see what she was like as I was too nervous and hadn't ridden for years. 
When they got back,  I sat on Mo in the field and I was terrified when she promptly neighed really loudly, threw her head up and down (most probably because I was holding the reins too tightly) and started to walk off. 

When I later asked Tash how her hack went, she said that Mo was perfect. I didn't find out until later that she had been really naughty on that first ride but Tash was so desperate at that point for me to buy her that she didn't say anything to put me off! 
And so I bought Mo, in the summer of 2002. At the age of 42, I had finally achieved a childhood dream to own a pony. And so our adventures together, and a brand new chapter in my life began....
Mojo was the perfect size for Tash and me to ride and we were so excited about sharing lots of fun times together with her.
A girl we knew, called Sam came to see her a couple of weeks later and had a ride in the school. Mojo was her usual cheeky self and began chucking out the occasional buck! We said to Sam, "so what do you think of her Sam?" and the reply was "erm well she's very sweet Pennie, but I wouldn't have got her for a first pony".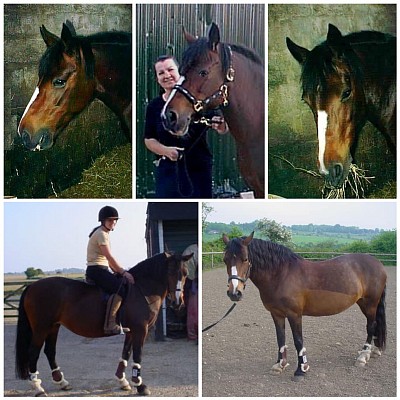 Mojo's Homes
Mojo lived in three different places in the years that she shared with us, each one different in its own unique way. Firstly, 
 Lower Wall Yard
 in West Hythe, then later at  
Honeywood Farm
 in Bilsington and finally, the wonderful years when Mo began 
living at home
 with us.
Our Relationship
Building A Bond
In the summer of 2011, I realised that due to some major falls from other horses, my confidence had been knocked drastically. I wanted to develop a closer bond with Mo but it seemed really hard. She was quite stubborn, strong willed, napped if she went out without another horse, often spooked out on rides and she most certainly wasn't cuddly! It dawned on me that something needed to change in order for me to get the relationship that I yearned for with Mo, and that confidence and knowledge played a major part. I was fortunate enough that Jez put me in touch with a local lady, Cathy, a trainer in natural horsemanship, who helped me. She really taught me how to have fun with Mojo, through the use of games and body language. I was so grateful and so very happy. You can find more information from Cathy by clicking the link below.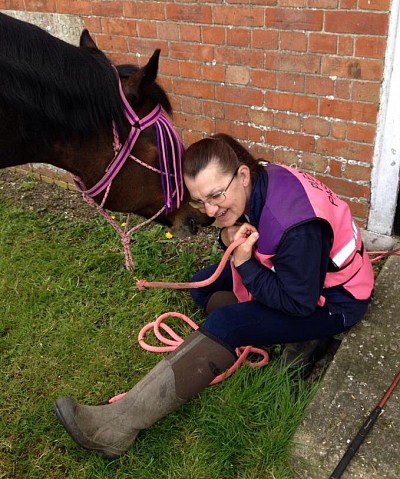 Memories
I have so many memories.
Our last week together
 paints a memorable image of the love and bond that we shared and I have tried to capture many of the wonderful moments spent with Mojo, including the fun that we had with 
children and friends
 and many of the 
celebrations 
that Mo was always a part of. There are also many beautiful 
photos of Mo
. 
Creating A Memorial Garden
The one thing that I enjoyed most and that I also found, helped me tremendously, was creating a memorial garden. Maybe some of you will get some ideas from our page and make your own....
Anniversaries (Angelversaries)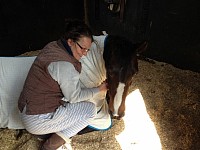 Managing Anniversaries
I soon learnt that some of the hardest things to manage, are the anniversaries, the memorable dates that are triggers for deep emotion. 
The first ones were extremely difficult and by far, the worst. The first Christmas, the first birthday for me and the one year anniversary of Mo's death. 
I have tried to make new special memories for those days, ones that celebrate the wonderful moments that Mo has given me, and that I too, have given her.
I do hope that you will enjoy reading about them and that for some of you, it may give comfort and ways to celebrate and commemorate the lives and memories of your horse on your own special and meaningful anniversaries.
Angelversaries in the years that have followed the ones mentioned below are always celebrated now by the lighting of candles, the tying up of special ribbons and some flowers next to photos of my beautiful girl……..
Tributes
I not only wanted to say
thank you
to many people for supporting me and helping me to discover different ways of managing grief but mostly, of course, to Mojo for all the absolutely wonderful years of love and joy that she has given me. I have also had many
tributes
from friends, family and people who have read Mojo's website. I hope you will enjoy reading them. If you have anything you would like to ask or add, please don't hesitate to
contact me
, I look forward to hearing from you.