Little Mo (Mojo), circa 1983-2018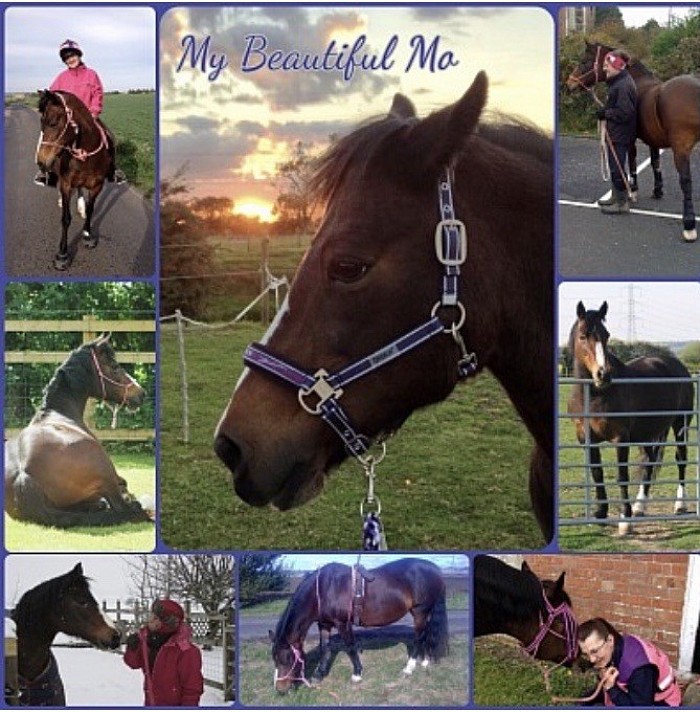 My Little Welsh Mare!
Little Mo
A 14hh pony of Welsh type. Bay mare with dapples as the seasons changed. Three white socks, a crooked blaze, a tiny white star on the forehead and smidges of pink and white under the lower lip and at the bottom of the blaze. Half a mane and a beautiful black silky tail. A powerful neigh, a gentle nicker and a kind eye.  A mischievous character and an overwhelming love of food. In short, the most adorable pony you ever saw..........  
I began building this website in the early months following Mo's death, as a way of coping with the many emotions that became at times, overwhelming. What started as a basic website, soon began to flourish into a wonderful story of our life together over the years and eventually the discovery of ways in managing grief. I do hope you enjoy reading our story.
Mojo's Homes
Mojo lived in three different places in the years that she shared with us, each one different in its own unique way. Firstly, 
 Lower Wall Yard
 in West Hythe, then later at  
Honeywood Farm
 in Bilsington and finally, the wonderful years when Mo began 
living at home
 with us.
Memories
I have so many memories.
Our last week together
 paints a memorable image of the love and bond that we shared and I have tried to capture many of the wonderful moments spent with Mojo, including the fun that we had with 
children and friends
 and many of the 
celebrations 
that Mo was always a part of. There are also many beautiful 
photos of Mo
. 
Creating A Memorial Garden
The one thing that I enjoyed most and that I also found, helped me tremendously, was creating a memorial garden. Maybe some of you will get some ideas from our page and make your own....
Tributes
I not only wanted to say
thank you
to many people for supporting me and helping me to discover different ways of managing grief but mostly, of course, to Mojo for all the absolutely wonderful years of love and joy that she has given me. I have also had many
tributes
from friends, family and people who have read Mojo's website. I hope you will enjoy reading them. If you have anything you would like to ask or add, please don't hesitate to
contact me
, I look forward to hearing from you.