Celebrations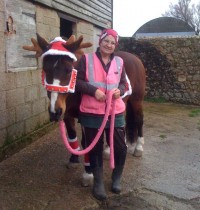 Christmastime
I loved spoiling Mojo at Christmas. I bought her loads of special Christmas treats and always put together her traditional 'Christmas Medley', made from swede and carrots with holes drilled through then threaded with string. It took ages to make and she used to eat it in seconds! I would also treat her to 'Uncle Jimmy's Licky Thing, Mojo Molasses flavour Horse Licks' and that's why I sometimes ended up calling her Mojo Molasess! I sometimes bought her an advent calendar although it would get ransacked if left it too close to the stable and all the treats would be eaten before Christmas Day! Mojo's favourite thing had to be her Christmas likits. Big likits, little likits and likit bars, Mo loved them all. She would always have some Christmas pudding or mince pies and a selection of party food in the evening too of course.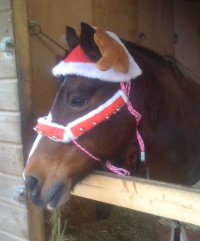 Christmas 2014
On the Christmas morning of 2014, after Mo had come to live permanently at home with us, we had a special Christmas Day ride together. It was on my bucket list and it was wonderful. We rode up Tame Lane in the morning sunshine with the dew on the grass. We were both togged up in our Christmas gear and a lady stopped in her car to wish us Happy Christmas and said that she had felt fed up but seeing us out together had made her Christmas Day feel really special...
A pony in the house
Of course it didn't stop at dressing up and treats and presents. There was also 'having a pony in the house' on my bucket list! So also in the Christmas of 2014, on Christmas Day, Mojo came indoors to wish us all a Merry Christmas.
The little grand-daughters were very excited and so was Mo! She was so excited that I didn't know if I would ever be able to back her out and over the doorstep again but fortunately she was as good as gold and took it all very much in her stride.
Fancy Dress
Whether we were at home or at one of our yards, we always loved seeing her on Christmas Day. We also loved dressing her up and going out for walks!
A Spring Wedding
In the spring of 2014, Tasha and Aaron got married. The wedding reception was at home and we had a lovely marquee in the front garden. Of course Mojo had to be a part of the wedding. She wanted to be there for her other Mummy's wedding and earlier at the bridal shower! Mo was more than happy to be the centre of attention for a while at both and to pose for photographs. There were some lovely moments and they made both days very special. Mo was totally chilled and even enjoyed grazing inside the marquee the day after the wedding and eating some of the leftovers...
Making our way to the wedding reception
Richard's 60th Birthday
Mojo was living here for her daddy's special 60th birthday. She and Tilly gave him a special record from the top ten in the year that he was born. It is a single called 'Cherry Pink' and the inside of the record is purple. Mojo's two special colours.
I so wish she could be here for my 60th, I had special plans, but I am so thankful for the birthdays and celebrations that we have been blessed to spend together.